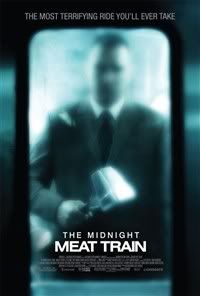 After dumping Clive Barker's latest gore-filled thrill-kill fest like a hot freakin' potato, Lionsgate is now offering MIDNIGHT MEAT TRAIN up as a FREE Halloween treat online!
The film stars Bradley Cooper as an up-and-coming art photographer working on a collection of gritty shots of the night-world underbelly of the city. When he stumbles across a brutal serial killer named Mahogany (Vinnie Jones), a new obsession with the killer threatens to cost him, not only his own life, but the life of his terrified girlfriend (Leslie Bibb).
You can check it out over on Fearnet.com where they have a grand player with fullscreen and what-have-you, or you can check it out right here in the Den of Iniquity! So HAPPY HALLOWEEN, YOU DEVILISH BASTARDS!